EasyFit 數據分析軟體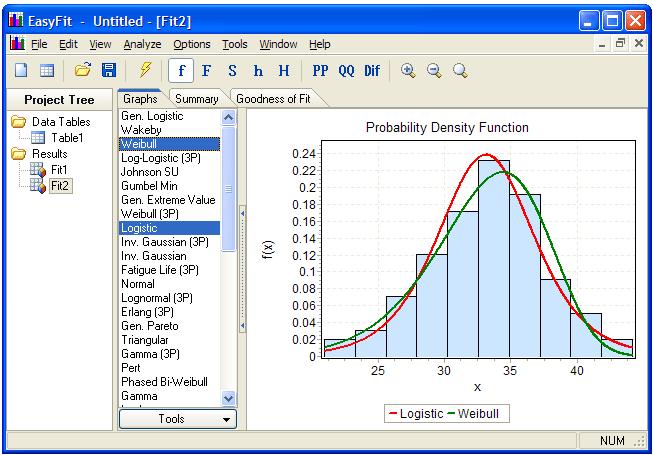 EasyFit 分配簡單容易
EasyFit允許自動或手動將大量分佈擬合 到您的數據中,並在幾秒鐘內選擇最佳模型。它可以用作獨立應用程序或Microsoft Excel,只需基本的統計知識即可解決各種業務問題。
EasyFit的好處:
節省時間:比手動方法減少70-95%的分析時間
省錢:防止分析錯誤並做出更好的業務決策
確保您的項目的高品質
快速入門:EasyFit非常易於學習和使用
誰適合使用EasyFit?
EasyFit成功應用於各行各業的業務分析師,工程師,研究人員和科學家:風險分析,精算科學,經濟學,市場研究,可靠性工程,水文學,林業,採礦,醫學,圖像處理以及許多其他領域的交易隨機數據。
我們的客戶對EasyFit的看法:
"作為一名項目工程師和項目經理已有35年的歷史,我在整個職業生涯中都使用過曲線擬合程序,但這個程序比市場上的任何東西都要輕巧且功能強大......"
---
EasyFit是一款windows下的數據分配配對概率統計軟體,用來提高數據自動分析的可靠性和選擇最佳模型。
EasyFit allows to automatically or manually fit a large number of distributions to your data and select the best model in seconds. It can be used as a stand-alone application or with Microsoft Excel, enabling you to solve a wide range of business problems with only a basic knowledge of statistics.
EasyFit allows to easily and quickly select the probability distribution which best fits to data, and perform specific calculations using the best fitting model. Key features include:
·
support for over 55
probability distributions
·
powerful automated data fitting mode
·
manual distribution fitting capability
·
high-quality interactive graphs
EasyFit provides an integrated environment including the data management, analysis and reporting capabilities, allowing you to organize your work and make it even more productive.
Advanced Excel Integration

new
EasyFitXL
is a Microsoft Excel add-in making most of the features of EasyFit available to Excel users. EasyFitXL integrates into the main menu of Excel, allowing you to perform data analysis & simulation right in Excel.
EasyFitXL provides more than 650 functions which can be used in Excel worksheets and VBA applications, enabling you to apply the analysis results obtained using EasyFit and integrate them into your custom Excel-based solutions.
EasyFitXL is a part of the
Professional Edition of
EasyFit.
Numerous unique features make EasyFit a powerful yet flexible solution. With EasyFit, you can:
·
analyze your data sets even if they are very large
·
develop better models by applying advanced distributions
·
make right business decisions using interactive reports
In addition, EasyFit allows to view distribution graphs and perform probability calculations without entering the data, generate random numbers, calculate descriptive statistics, and more!