ComponentOne Studio 軟體開發應用元件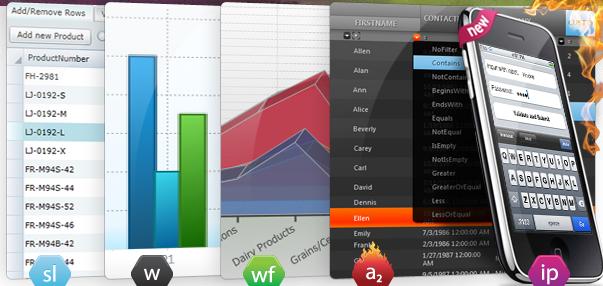 Seven platforms, hundreds of controls, one studio. Build awesome desktop, Web, and mobile apps with our tools for WinForms, WPF, ASP.NET, Silverlight, iPhone, Mobile, and ActiveX. ComponentOne Studio® Enterprise gives you the technology you need to reach any user
Studio for

WinForms

Over 60 .NET controls, including the ones you can't get anywhere else. Studio for WinForms can handle anything, from a grid with a million rows to a chart with unlimited points.

Studio for

WPF

Studio for WPF offers everything from advanced data binding to rich data visualizations included in grids, schedulers, charts, reports, and more.

Studio for

ASP.NET

AJAX

Do more with less code. Over 35 styled, supercharged, and easy-to-use controls built on Web standards including AJAX, CSS, and XHTML.

Studio for

Silverlight

Industrial strength Silverlight controls you cannot find anywhere else. Download ComponentOne Studio® for Silverlight, play, and watch the Web shine.

Studio for iPhone

Use your existing ASP.NET skill set and take your Web apps to the iPhone. ComponentOne Studio® for iPhone gives you the iPhone UX.

Studio for

Mobile

Grid, chart, validation, and zip controls for building Mobile apps.

Studio for

ActiveX

Full suite of the most popular ActiveX components including controls like True DBGrid and VSFlexGrid.