XperRule Knowledge Builder 專家系統建構軟體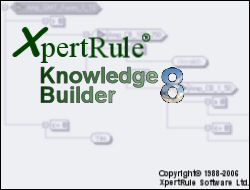 Knowledge Builder is an enterprise strength environment for developing and deploying knowledge-based applications and components. Knowledge-based applications are software components which incorporate rules, expertise, know-how, procedures, policies and regulations which can collectively be called "Business Rules". The automation of business rules is the engine that powers the "knowledge economy" and "eBusiness"; this requires flexible and scaleable tools for the capture and deployment of business rules over the web. Therefore Knowledge Builder provides a key enabling technology for eBusiness.

Knowledge Builder is unique in the breadth of its integrated knowledge technologies, its comprehensive development environment and its scalable deployment options; which makes it ideally suited to a wide range of knowledge-based applications.

XpertRule Knowledge Builder extends the graphical knowledge representation paradigm, established since 1988, by its predecessor XpertRule KBS, to new levels of scalability and flexibility.

Making Recommendations & Advice
This class of application provides recommendations and advice on the most suitable products, services and courses of actions. Such applications can be used to help customers select the best products and services based on their requirements. These applications can also use the customer profile to present the customer with a personalised recommendation service and to maximise the opportunity for cross selling. Recommendation and Advice systems can also be used internally within an organization to share knowledge and to enforce best practice.
Troubleshooting, in Customer Support & Help Desk applications
Capturing troubleshooting and diagnostic knowledge allows an organization to effectively support internal users (such as call centre agents) and customers. Using knowledge based customer support will deliver better customer service and higher productivity. Better customer service results from the responsiveness and quality of your support/helpdesk. Better productivity results from the customer support application automatically processing some queries and also from empowering the support agents to handle more queries accurately and consistently.
Risk & Condition Assessment & Monitoring
These are knowledge applications that monitor your business transactions for patterns that represent a high risk to your business processes. Examples of such applications are systems for assessing the risk of fraud in financial transactions such as credit card purchases, insurance claims, loan applications and others. Other examples involve assessing the condition of manufacturing and process plants to detect early warning signs of failure.
Workflow
A knowledge based decision making engine can use rules to decide on the next task/action in a workflow system, based on current events and available data.
Resource Optimization
The Genetic Algorithm optimizer within Knowledge Builder can be used to determine optimal solutions to problems that have many possible solutions, such as design, resource scheduling and planning, and component blending - in other words resource optimization. You do not have to tell Knowledge Builder how to solve the problem - instead you specify a method of evaluating solutions, define the constraints on resources and Knowledge Builder will evolve the best possible solution according to your criteria.