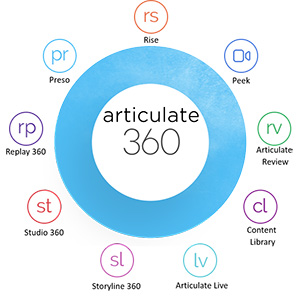 Articulate 360
Effortless responsive authoring
Create fully responsive courses that adapt automatically to any computer, tablet, or smartphone, without any manual tweaking.
An ever-growing library of assets
Get the assets you need to get going quickly. Articulate 360 gives you an ever-expanding set of free slide templates and characters.
A simple way to collaborate Live online training to help you grow
Speed project reviews by allowing stakeholders to view courses and provide feedback in a web browser—no app download required.
Live online training to help you grow
Join live webinars that teach you how to build better courses with the industry's leading e‑learning gurus, including Tom Kuhlmann.
Responsive to every mobile device
Responsive to every mobile device Access easily
Deliver interactive courses to every device—without tweaking a thing. You simply create your course in Articulate Storyline 360, then click publish. That's it. Your course auto‑magically plays everywhere, beautifully.
Access easily
Peek is ready when you need it, only a click away. Launch it directly from the Mac menu bar or the Windows system tray.
Guide learners personally
Walk learners through on-screen content by capturing screen activity and yourself on webcam—at the same time. With Articulate Replay 360, it's super simple to create professional-looking screencasts with a personal touch.
Compare plans
Articulate 360

360 for Teams

Create Multi‑Device Courses with Desktop Tools

Storyline 360

◎

◎

Studio 360

◎

◎

Build Responsive Courses on the Web

Rise

◎

◎

Create Training Videos & Screencasts

Preso

◎

◎

Peek

◎

◎

Replay 360

◎

◎

Simplify Stakeholder Reviews

Articulate Review

◎

◎

Get Templates & Course Assets

Content Library

◎

◎

Grow Skills with Live Online Training

Articulate Live

◎

◎

360 Teams Features

Storage

150 GB

Unlimited

Team Administration

◎

Seat Management

◎

Success Team Health Checks

◎

Priority Email Support

◎

Live Chat Support

◎

Consolidated Billing

◎

Purchase Orders

◎

Volume Discounts

◎