X-Win32 遠端伺服器軟體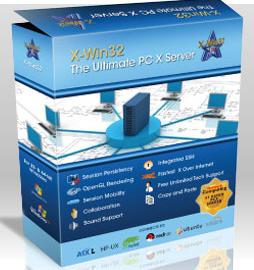 X-Win32 是一種能在 Windows 內連線 X 視窗的工具。 X-Win32 能夠提供 Windows 使用者連線近端或遠端 Linux/Unix 伺服器。 PC機X終端強有力的競爭者,也是X Window系統伺服器,它允許你的Windows系統透過TCP/IP協定執行X應用程式或Unix系統。支援執行在Sun, HP, SGI,Linux, SCO, AIX, 和其他 Unix 工作站和檔案伺服器上的Open Look, Motif, CDE, VUE, GDM, Gnome及其它X應用。
After more than 20 years of development, X-Win32 has become the most advanced PC X server on the market. With an average of 30 million uses per month globally,
X-Win32 is also one of the most widely used X emulators. In addition, X-Win32 remains the simplest PC X server to use, and with a list price of a single commercial copy, it is also the most affordable.
X-Win32 includes many features that are either unique to X-Win32 or for which competitors charge a hefty premium.
Session Sharing

LIVE Sessions offer the ability to allow other Windows and Linux users to connect to a "master" session. This way, multiple people can collaborate on a project. Each invited guest can take control of the keyboard and mouse in order to provide his/her input on the project.
Fast Over Slow Internet Connections

Running a full Unix/Linux desktop over an Internet connection, even at DSL or Cable speed, has never been feasible as the operation would be unacceptably slow. LIVE Sessions use a highly efficient protocol in addition to compressing the data. As a result, LIVE Sessions allow you to run a remote Linux or Unix desktop at LAN-like speed over most Internet connections.
LIVE Console

Engineers and others are increasingly using Linux workstations in their office, but only have access to Windows notebooks and home PCs when away from the office. StarNet's LIVE Console solution (which is built into the LIVE server) allows a Linux user to suspend his native Linux console desktop and all of the local and remote applications it is running. Then, at home, using the LIVE session connection, the desktop can be re-displayed onto the machine. Even VNC cannot perform this functionality, as VNC can only re-display a desktop that is displayed through the VNC client.